Rubbish Clearance London
Find that you've
accumulated
a lot of rubbish
across the
winter months?
Since full rubbish bags occupy space, you're going to run out of storage space sooner or later. While most favour placing rubbish bags at the foot of their drive way, the area is prone to attacks from foxes and occupies a needless hazard when you reverse your car into the space. So how does one resolve their rubbish problem? The answer is simple - hire our London rubbish clearance company and we will service your needs promptly and accordingly to your requirements. Since we understand that any house clearance fresh on the heels of Christmas, New Years and numerous winter Sunday roasts is going to be sizeable, the last thing you want is to have decomposing food sitting on your property ahead of spring, even when such rubbish is contained in bags.
Testimonials: I just can't express how satisfied I am from this company. If you're not sure what a comprehensive rubbish clearance service involves you certainly should hire these guys! – J. Jenkins
Hire Cheap Rubbish Clearance Services in London
You are in need of reliable London rubbish clearance service? This is where we come in. Our first point of usefulness comes in that we can perform a clearance both small and big in nature. Should you want to have the former option done, we will break your rubbish load down systematically across departments before separating items accordingly. This technique in micro-management ensures consistency in eco-friendly practices and prevents over-crowded bags from splitting open. Indeed, we will begin by lessening the load of any heavy bag. We will proceed to carefully relieve your bags of any excess moisture through making small vents in any moisture-ridden bag before shrewdly releasing the liquid safely into a large bucket, so no excess liquid will spill onto your driveway.



Let Your London Rubbish Clearance in Our Safe Hands
Elsewhere, waste removal has never been simpler over clearing big items. No piece of furniture is too big or heavy for the professionals who work in our rubbish removal London company to clear. Got a heavy rug sitting on your driveway exposed to all sorts of predators like foxes? Don't worry as we are here to help. We understand that unwanted is furniture is difficult to store because of its size. You need to move it out and can ill-afford to have things like unwanted sofas left outside exposed to rain and the subsequent threat of contamination through moisture build up. Though you may think leaving such an item outside will prevent any smell, the sofa will in fact begin to stink out you and your neighbours soon enough.


Have Your Rubbish Clearance in London Taken Care Of Professionally
Larger items are also dealt to by a series of staff, as opposed to one or two workers. This is why lifting and shifting items can be done easily. Efforts in rubbish removal are further facilitated through our capacity to work quickly. We will perform any task across rubbish clearance in London with great flair which means you'll rarely have us on site for over an hour. In any case, our hourly rates are low and hugely affordable. For the best local rubbish clearance service, call London House Clearance on 020 3540 8016 and we will service your needs across the big, small and environmentally-conscious. While rubbish marks an unwanted by product of our everyday lives, it needn't be a burden, and, once you dial our number, can be removed within the parameters of sound hygiene and service.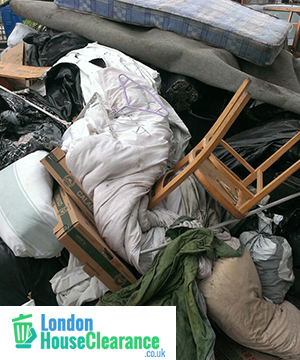 Our Rubbish Removal Company is Head and Shoulders above the Rest across London
Readily capable of adapting to adverse circumstances across degrees of mess, including liquid-heavy rubbish that isn't contained, we will meet any specific customer needs and display dilligence in cleaning and sanitizing any given area once clearance has taken place. On this note, our team have all sorts of modern and effective cleaning means at their disposal so will tidy up accordingly. We also bring such tools as spades and brooms with us in order to sweep up properly and rid your place of any unwanted left over debris. Dust from bricks is a particularly familiar culprit but our on hand means will ensure all debris like this is cleared. Call us on 020 3540 8016 for an instant quote on the best rubbish removal company London.