Garden Clearance London
Whether your requirements are befitting of a full-scale garden clearance in London, or you simply need to shift those weeds that you dug out over the weekend, London House Clearance are here to service you. We will provide you with first-class house clearance services of highest quality and at minimum cost. Speaking of rubbish removal specifically, our full-scale and comprehensive post-treatment tidy suffices in addressing all areas of the garden where debris may have resulted from the moving of items, through either uncovering it or producing it during transition. In other words, we will painstakingly inspect beneath every blade of grass and pay special heed to matter that won't compose naturally, like plastic.
Testimonials: Reliable house clearance services can be hard to find. I put my trust in this company once and I'll certainly do it again. – O. Jones
Hire Cheap Garden Clearance Services in London
The only thing we love more than seeing an immaculate garden is successfully transforming a messy back yard into one that looks better than new. With garden clearance London services unparalleled locally, London House Clearance are keen to prove their expertise across restoring gardens having already carved out a reputation as a credible firm across clearance services elsewhere, including house clearance and furniture clearance. Complete your house clearance job through having us attend to your garden. Our capable team understand the range of difficulty posed across dissimilar outdoor spaces and are happy to match such tasks in supplying additional staff. Customers can expect the following within a typical garden clearance, and we will happily deliver on specific requests elsewhere too; removing of all excess weeds and plants, lawn-mowing, clearance of unwanted items, removal of washing lines and restoration of compost sites. This latest task includes cleaning up any spilt compost and pet droppings.

You can also
expect
clearance
to happen
quickly too.
Have Your London Garden Clearance Taken Care Of Professionally
Such is our knowledge across sub-departments through routine exposure, we will capably transform your garden in no time. Furniture clearance across outdoor accessories such as unwanted brooms, lawn mowers, large rakes and excess gnomes. Our garden clearance service is always carried out in the best interest of the environment. Since gardens themselves serve as a reminder of a need to maximize the green in the world, our practices and means of treatment will never compromise the fertility and well-being of your favourite outdoor area. Want to know exactly how this is achieved? Call us today on 020 3540 8016.
Our House Clearance Services in London Are The Best Value For Your Money
Still scpetical? We understand how discerning home owners are aware of such things as spills, stains and marks that can result from moving large quantities of matter during rubbish clearance. This is why we always re-trace our steps before leaving your property and make absolute sure that nothing has been misplaced across the course of our efforts.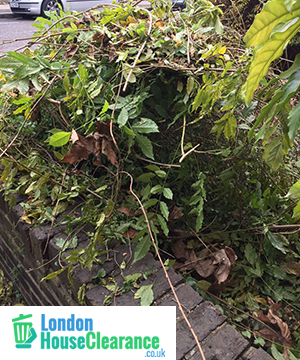 London House Clearance Is So Much Easier With Us
While this precaution serves well in retrospect, you will also be pleased to learn that our rubbish clearance methods of action are not naïve or performed with poor judgement. While we perform all tasks prompty, we aren't so careless in our efforts to neglect certain situational impediments. Indeed, the shared capacity among our experienced staff to move slowly and systematically through narrow access ways, like that down the side of the house, will ensure nothing is damaged. For example, in moving such things as old trees, our staff will pre-strap the branches before carrying the tree, paying careful attention in efforts to prevent the object scraping any nearby surfaces. To book our unbeatable London garden clearance service, call us today on 020 3540 8016.